OVERVIEW - GLASGOW'S APPROACH TO YOUNG PEOPLE INVOLVED IN OR AT RISK OF 
BECOMING INVOLVED IN OFFENDING
BY NATALIE CARR, Chief Inspector Police Scotland, Strategic Lead for One Glasgow
As the recently appointed Chief Inspector of Partnerships in Glasgow, I have had the opportunity to take the strategic lead for Police Scotland on the One Glasgow Partnership.  In that short time, I have seen first-hand the tremendous strength of the partnership and the clear difference that this approach makes. 
I cannot stress enough the importance of bringing together all of the resources, skills, knowledge and dedicated people around an issue.  The learning from each other, reductions in duplication and overall effectiveness of this is invaluable and the results speak for themselves – the number of young people in Glasgow reoffending has dropped significantly since the introduction of the One Glasgow initiative which has now been fully operational in the City for 7 years.    
One Glasgow is a unique multi-agency partnership which is led by Police Scotland and funded by Glasgow's Community Planning Partnership to co-ordinate and monitor progress of the Whole Systems Approach for young people.  Partners include: Community Justice Glasgow and a number of other services within the Glasgow City Council family including but not limited to – Neighbourhoods & Sustainability; Criminal Justice Social Work; Youth Justice Social Work; and Children & Families Social Work, NHS Greater Glasgow and Clyde; Scottish Children's Reporter; Scottish Fire & Rescue Services; Scottish Prison Service; and a range of 3rd or Charity Sector organisations.  The Whole Systems Approach focusses on 3 main strands:
Early & Effective Intervention – which aims to reduce referrals to the Children's Reporter – keeping young people out of the more formal systems – evidence suggests that as far as possible children and young people should be kept out of the criminal justice system. Where offending does take place effective and timely interventions are needed to address that behaviour and its causes.


Diversion from Prosecution – bringing young people into the criminal justice system early for low level offences often results in increased offending –providing opportunities to divert them from formal prosecution can positively change the behaviour of young people and prevent further offending.


Re-integration and Transition – supports young people in secure care or custody in planning for their re-integration into the community, connecting them with the services that will support them into a more positive lifestyle.
Its Aim is to focus on those aged under 25 who are involved in, or a risk of becoming involved in, the criminal justice system (committing crimes or offences).  This spans those first coming to the attention of the Police (Early & Effective Intervention), those with very complex needs being managed in the community (Intensive Support & Monitoring Services),  to those leaving prison or secure care (Planning for Re-integration). 
The One Glasgow approach ensures that young people have their needs met in the most effective and cost efficient way – at whichever point in the justice system they find themselves.  The approach taken recognises that young people who offend are often dealing with poverty, alcohol and drug addiction, poor family relationships, poor mental and physical health, learning, housing and employment issues and will most likely have experienced a number of Adverse Childhood Experiences that have played a significant role in driving their behaviour. 
CLICK ON THE PICTURE TO FIND OUT MORE – 'UNDERSTANDING THE DAY TO DAY WORKING OF ONE GLASGOW'  – POWERPOINT PRESENTATION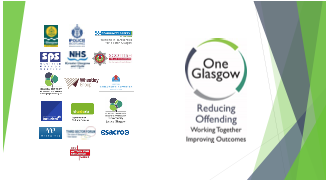 Evidence based approaches such as Scottish Government's Youth Justice Strategy – Preventing Offending – Getting it Right for Children & Young People underpin the work that we do.  This 'tackling needs' based approach often comes under criticism in the media for being 'soft on crime', however, it is important to recognise that in order to keep our communities safer and ensure that there are less victims of crime, we need to put into practice the best evidence available – it is about effective justice – what works to reduce further offending and ultimately keep our communities safer for everyone. 
This evidence, and our experience, tells us that, in order to reduce offending and reoffending by young people, we need an integrated, holistic approach – one which tackles deeds whilst taking account of wider needs and tackling the issues that have brought our young people to this point in their lives. 
There are other articles in this Annual Report that give more detail in regard to some of the issues that might have contributed to young people coming into contact with the Criminal Justice System so I won't go into that in detail here.  If you want some more context you can click on the links to those articles below:
SEVERE AND MULTIPLE DISADVANTAGE – AT THE ROOT OF OFFENDING BEHAVIOUR
MEETING THE CHALLENGE FROM THE ROOTS UP – AT THE CENTRE OF COMMUNITY JUSTICE ARE PEOPLE WHO NEED SUPPORT
A QUESTION OF HEALTH – REDUCING RE-OFFENDING
THE RIPPLE EFFECT – WHERE THE PAST MEETS THE PRESENT
The results of our approach speak for themselves:
In the first 6 years (due to Covid 19 issues figures for 2019/20 were not available at time of publishing) that One Glasgow has been fully operational:
Overall recorded crime – table 1 – (2012/13 – 2018/19)  for under 25s has reduced by 40.9%
Down 6% between 2017/18 & 2018/19

885 less crimes committed by under 25s;and
£575,250 of savings to the public purse in one year alone
The number of young people under 25 convicted of a crime (Figure 1):

between 2015/16 & 2016/17 (the latest available figures published in June 2019) has fallen by 449 individuals or 18% and those reconvicted within a year has dropped by 114 or 7%
the difference between 2012/13 & 2016/17 is 805 or 28% in the comparative years
These figures demonstrate that early intervention continues to be the most efficient and effective approach when dealing with young people who are at risk of, or are getting involved in crime.

Change in number of crimes recorded between periods

 

Change in % of crimes recorded between periods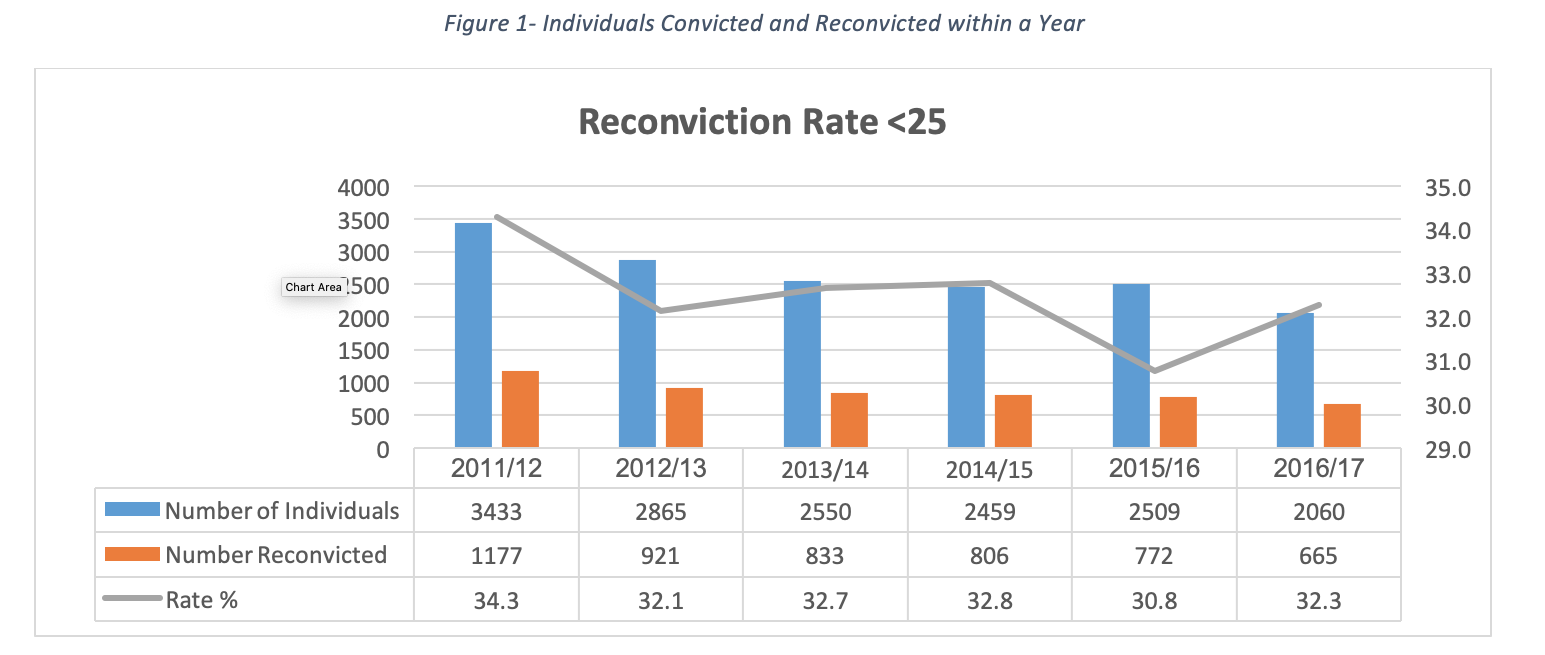 The figures are an important marker of a successful initiative, however, there are people at the heart of this, for me, their stories and successes in turning their lives around, speak volumes. 
This article, is intended as an introduction to One Glasgow and the Whole Systems Approach.  You can read the other articles in this section of the Annual Report to get a good flavour of what our Partners have been involved in over the year and the successes both at a system or organisational level and ultimately at that very personal level where good outcomes have been achieved and individuals have set off on a journey that will no doubt lead to a more positive life – this is at the core of what makes our communities safer for everyone.   
(Visited 230 times, 1 visits today)